Golden Qi-Pao Barbie doll was designed to commemorate the one year anniversary of Hong Kong's reunification with China in July 1998. Her dress is so elegant in the color gold and her jewelries are made of green jade.
I heard that this version is a Limited Edition exclusive to Hong Kong collectors only. She comes in an exclusive gift presentation box complete with special edition coin, individually numbered certificate of authenticity, and a booklet telling the history of the Qi Pao.
The same doll was also available in a smaller box with different packaging and without the special edition coin.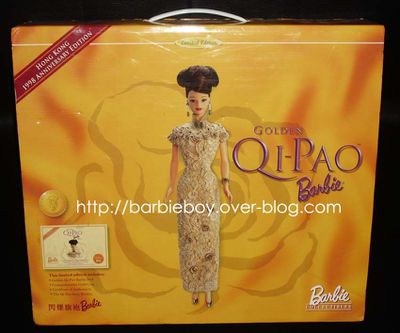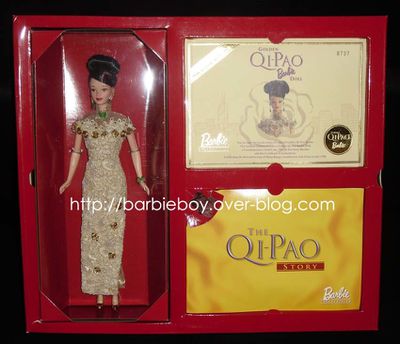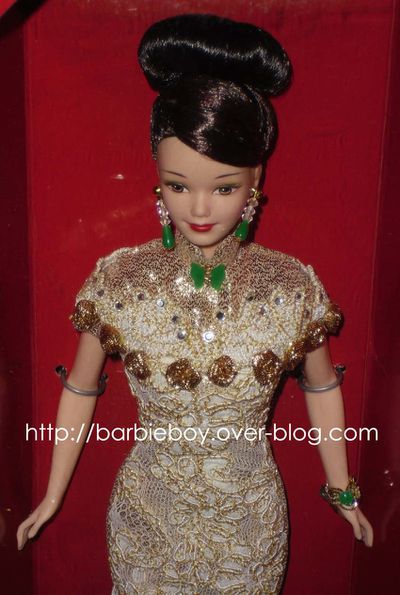 "The cheongsam is a body-hugging (modified in Shanghai) one-piece Chinese dress for women; the male version is the changshan. It is known in Mandarin Chinese as the qípáo. The stylish and often tight-fitting cheongsam or qipao (chipao) that is most often associated with today was created in the 1920s in Shanghai and was made fashionable by socialites and upperclass women." (Source: Wikipedia)