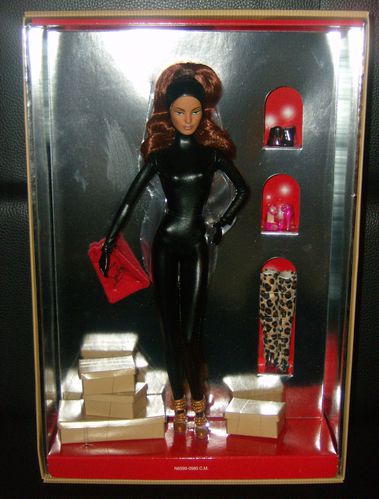 CHRISTIAN LOUBOUTIN BARBIE DOLL - 2009 - 1ST IN SERIES
The first doll in this series of three comes straight from the calendar's September scene—Barbie vividly dreaming of being a jewel thief on the rooftops of Paris with her sophisticated partner in crime, Christian Louboutin.
Barbie wears a sleek, black catsuit with hood, headband and ultra-chic Differa gold sandals by Christian Louboutin.
The Doll comes with four pairs of Barbie shoes by Christian Louboutin each with the signature red sole, miniature shoe boxes and cloth bags. Shoes include the Differa gold sandals, Altameche Leopard boots, the Claudia ankle straps in Barbie 219 Pink and the Belle Ankle shoes in black.
Only this first doll in the series comes with Barbie by Christian Louboutin calendar and Certificate of Authenticity.