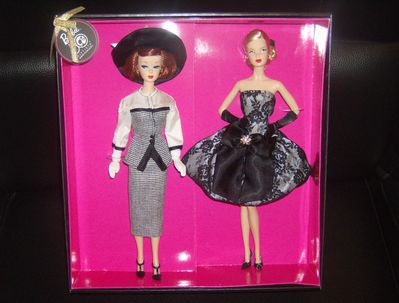 In celebration of this unique history and the 2009 National Barbie Doll Collectors Convention, Tribute Barbie Giftset features two extraordinary Barbie dolls.
Acclaimed former Mattel Barbie doll designer CAROL SPENCER creates a striking black and white daytime ensemble featuring a tweed jacket and pencil skirt, T-strap heels, white gloves and hat are the perfect retro accessories.
MATTHEW SUTTON presents his evening take on Barbie. Dressed in a black lace over white satin, strapless cocktail dress featuring a large bow, this doll's striking accessories include glittering brooch and black opera gloves.
This is a limited edition set, no more than 1,500 worldwide.
I really, really, REALLY like the contemporary doll! She is one of my favorite dolls of all time!
Convention-dolls